Kerry Cook began cutting silhouettes professionally at the early age of ten. On August 11, 1974, at an Arts & Crafts fair at Aurora Village, in Seattle's north end, Kerry made her artistic debut -- happily absorbed in her work, and oblivious to the long line of people waiting for silhouettes.
Before her eleventh birthday Kerry had already added five county fairs and a holiday bazaar to her resume, and by the time she graduated high school she was an eight-year veteran artist, with a good command of likeness and style.
Kerry's parents were both working artists. Her mother, Donna M. Cook, is a portrait artist, and it was out of her portrait booth that Kerry worked at art fairs, county fairs and holiday bazaars throughout her teen years.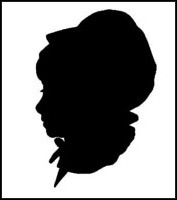 One of Kerry's very first silhouettes. Freehand cut in public, August 11, 1974, when the artist was 10 years old.